What could be better than enjoying great live music in the comfort of your or a friend's home or backyard?  Join the growing number of people across the country who are taking great live music back from the noisy bars and into a human-scale format ripe for connection.  It's a great way to interact with your community in a creative way, and to experience the emotion and connection of heart-based music in an intimate setting.  Check out this site dedicated to house concerts to get an idea of what the format is, or read some testimonials from people who have hosted or attended one of my house concerts:

     "We hosted Andrew at our house recently and it turned out to be a fabulous experience, for a number of reasons.  The first and most obvious reason: the music itself, which is executed to perfection and also has an extremely broad appeal.  The second reason: Andrew as a performer.  He has this warm and engaging stage presence that is rare among musicians.  The third reason: The cool factor.  We invited a ton of people--some we knew well, some not so much.  We didn't know exactly how it would go, but it turned out awesome.  As hosts, we got to look really hip--good taste in music, access to talented musicians, etc.--when really all we did was provide a space and some snacks! "           – Nick Henry, Tucson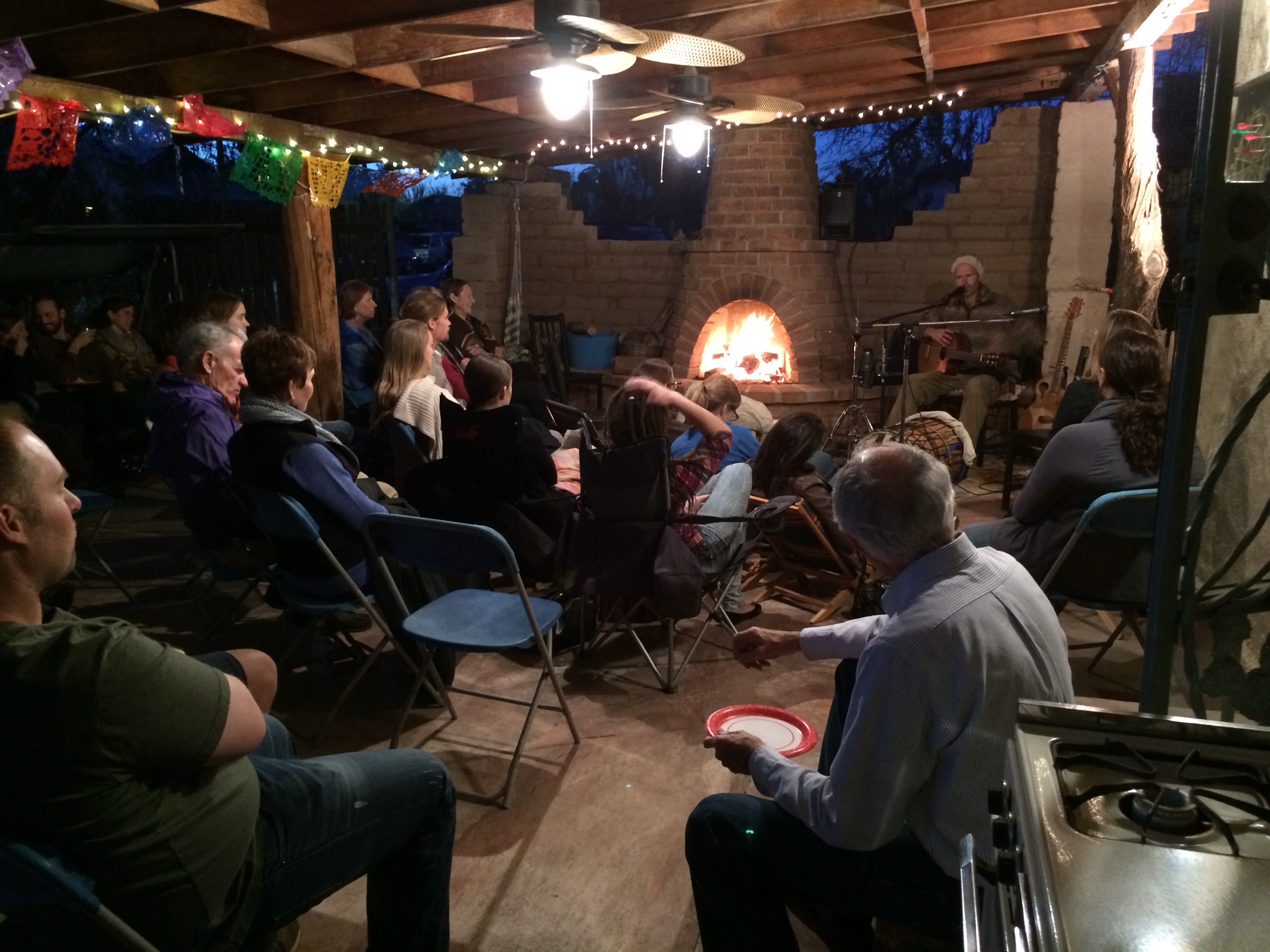 "Andrew's music is diverse and dynamic spanning many cultures and languages. A house concert is the perfect setting for his lively and intimate style of playing music. We look forward to him coming back through".  - Joshua Sage, Santa Fe
 
     "My family hosted Andrew at our home in Cave Creek, AZ for a concert in March, 2014. Andrew played for an intimate group of our friends and family. We all sat around a campfire, surrounded by mesquite trees and under a starry sky while Andrew shared his beautifully crafted repertoire of songs with us. His music is full of spirit, hope, and joy and as he played, we gazed into the fire, danced with our little children, or sang along. It was truly a magical evening. We look forward to hosting him again and helping him to share his gift with more of our friends and acquaintances. (Andrew stayed at our home for the night-his company is a pleasure. He is a kind and considerate guest.)"
   - Artemis Bayless, Cave Creek, AZ

      "My friends are all still raving about the one we did at my home here in Utah!" 
              - Scott Wright, Salt Lake City

       All it takes to host a house concert is a living room that can hold at least 20 people...though more is better, or a comfortable backyard, depending on weather.  You invite your friends and acquaintances, your facebook friends, etc, and I invite any friends and fans I have in the area.  That's it!  If we think we can muster up at least 20 people, then it works!  We usually put a $10 - $20 suggested donation at the door, depending on what sounds appropriate for your community. You can decide whether you want to provide snacks or drinks, have a pot-luck, or just keep it to simply music.  The feedback in terms of connection that happens, magic floating through the house, and what it adds to a space has been very positive.  And I'm so grateful to have finally found the perfect setting to share my music while helping to support my family.  Let me know if you'd like to give it a shot!