Whew!  What a trip.  And what a journey.  Deciding to leave my family for two and a half weeks to teach at
Buckeye Gathering
in northern California, and then play 6 events in seven days, sharing my music in backyards, living rooms, libraries, in central California oak forests around a fire, a Bay Area metropolis, Los Angeles city sprawl, Topanga mountain curves...meanwhile battling the misgivings of putting that extra load of temporary single parenthood on my amazing wife, Lexa.  And through it all, I am blessed, and we are blessed;  my life giving me the imperative: you must share your music now! 
     This house concert opening has been the one clear possibility this spring for how I can make a decent living for my family at the moment... a challenge I have struggled with for many years, and often ridden that edge of making enough money.  And now I find myself singing this music that comes from a mysterious source, through my heart, and into the hearts of others in comfortable and welcoming homes, in fire-lit backyards across the West.  And at the same time, making a decent living.  Such a gift that I will cherish for the moment and give thanks for. 
      Some highlights of the trip were the Elderberry song, given by an Elderberry tree to a man in Santa Barbara, CA.  The other half of the song was given to a woman in Toronto by a different Elderberry tree.  A visionary named Jon Young was in the right place at the right time to meet both people and see that they carried two parts to the same song.  The two parts were sung together by hundreds of teary-eyed, elated women and men in a forest in northern California at Buckeye Ancestral Skills Gathering.  Some of the significance of the song was obviously understood by these people so moved by this occurrence.  As I hear it and sing it, it reminds me so much of the spirit calling mbira songs of the Shona people; of the spirit-calling West African drumming music: a magical intertwining that does not come from the human mind, but rather from nature; from spirit.  And all this time borrowing this magical music from traditional cultures leads us to this moment when two trees give a song of such power directly into the hands of.....Us: the humble, stumbling lot of orphans searching for a place to belong, battling through the disorienting madness of modern globalized civilization seeking the tiny unfoldings of the possibility of cultural regeneration.  And the tears fall......and the song makes it way across the land....
      And in Sebastopol, a friend met under unlikely circumstances hosted a concert in his backyard under live oaks around a fire spun by many and sung into life.  The music accompanying me swirled around the fire, and then my friend and host, Randall, joined me on mbira-style guitar to help crack open the moment....later in the night, he and I played traditional mbira songs together, and for the first time in the U.S., I saw the spirit of the mbira music climb inside people and animate their figures around the fire, kicking up dust, spinning and jumping, singing, dancing, laughing, and completing the circle of music and dancer, fire and smoke. 
      Two unexpected concerts came to be in Menlo Park, thanks to the generosity and open heartedness of Lena and John, and in Fullerton, CA, thanks to connection with friends and more welcoming famliy in Sylvia, Sean, Maya and family.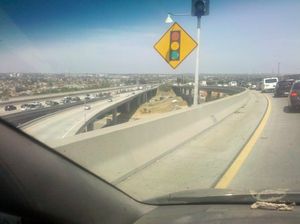 craaaazy Friday traffic on the way to my Fullerton house concert
       So many hearts opened up along the way.  Strings, voices, drums, songs, eyes.  New friends came to listen, came to dance, came to play, came to learn...a special treat of Robin and Ira in the bay area getting inspired to learn the mbira-style guitar parts to my song "Something Whole," which was definitely the song of the trip (see attached mp3), and then show up at my next concert to play it with me!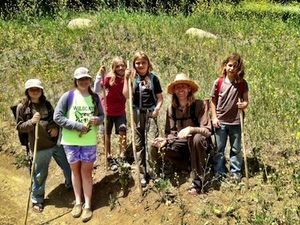 Topanga walkabout kids!
       Then Topanga offered me a chance to get out into the forest, taking a group of local home-school kids on a
nature connection walkabout
in those beautiful mountains.  Such a gift after so much driving and moving to slow back down to the pace of nature...to drop back in, hang with kids, see all the plants so familiar, yet "wearing California clothes," as my friend Doug Simons says.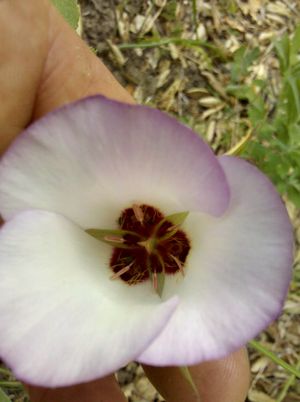 Mariposa Lily (blooming everywhere near Topanga)
And finally, a sweet concert at my dear friend Antonia's house to help celebrate her birthday.  So many old friends from my teaching and university days in southern California showed up for sweet reunions. 
        So grateful to be sharing my music in a way that works....in a way that connects...in a way that comes through...in a way that heals.  Thank you everyone for coming and supporting, for shining back at me, for sharing, and for participating.  Until next time, California.   :)